Bonjour les Aurore, je me permets de vous présenter ma candidature comme Brave. Je vous souhaite bonne lecture et demeure à votre disposition pour toutes vos questions.
Personnage In Game:
Nom : Alasthor
Race : Mort Vivant
Classe : Prêtre
Spécialisation principale : Ombre
Spécialisation secondaire : Discipline
Talents : Spe COP Classique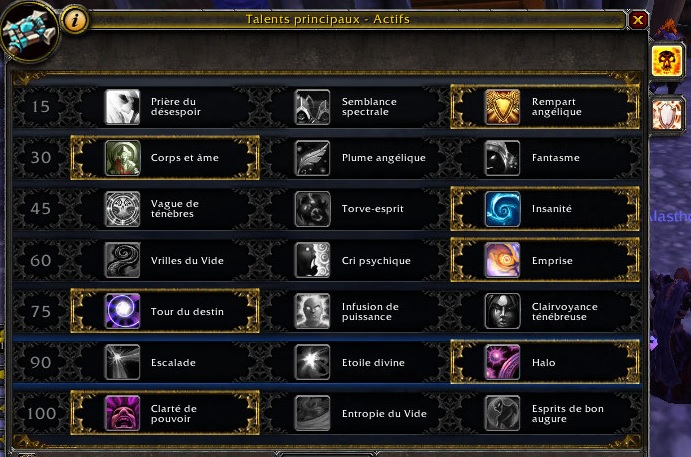 Métiers principaux : Couture 700 et Enchantement 700
Métiers Secondaires : Secourisme 700, Cuisine 700, Peche 630 et Archeologie 635
Disponibilité: Etant donné que je joues a votre horaire +3, je serai surtout présent en après midi et 2 soirs semaine maximum j'ai choisi de postuler comme brave.
Expérience a Wow:
J'ai débuté a Burning Crusade  avec des amis irl chez les maredsous puis j'ai rejoins Aurore Eternelle- Clairvoyant de Naxramass a fin EDC sous Lich King. S'en est suivie d'une longue pause. J'ai repris le jeu a Mist of Pandaria a la sortie du siege d'Orgrimar et je ne fais que du Pick up depuis lors.
Avancée a Cognefort:
NM - 7/7   HM 6/7 ( meilleur try Impé a 12% en pick up)  MM 0/7
Ilv = 667
Lien Armurerie : 

http://eu.battle.net/wow/en/character/les-clairvoyants/Alasth%C3%B8r/simple
Je souhaite intégrer Aurore Eternelle afin de rejoindre une communauté de joueurs PVE, béneficier de conseils dejoueurs experimenté et avancer dans le jeu. Si cela est possible  je souhaiterai aussi me joindre a vos eventuels raids reroll ou vieux raids. J'ai bien lu la charte de guilde et je l'approuves.
IRL:
Julien 28 ans, Cadre en milieu scolaire. Cela fait 4 ans maintenant que j'ai quitter Lille pour L'ile maurice d'ou le +3 horaire.
Matériel Informatique : PC Portable Sony VAIO  i5  2.4 GHz  6 GB RAM, Carte Graphique NVIDIA GEFORCE 410M.
Hors Wow, je joues aussi a Hearthstone, Magic the gathering. Je pratique du Tir a l'Arc, j'aime bien la plage et le camping.
Je vous remercie d'avance pour votre consideration et j'espere etre des vôtres.
A bientôt
Alasthør